JAN-09. SHARK ATTACKED SURFER AT VILLAMIL, ISABELA ISLAND.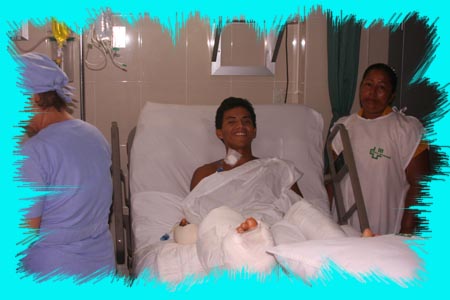 THE ONLY PORT IN THIS ISLAND WITH ONLY FEW THOUSAND LOCALS AND VERY FEW SURFERS MOSTLY KIDS, A SURFER ABOUT 20 YEARS OLD WAS ATTACKED SURFING RIGHT IN FRONT OF TOWN AREA. THE SURFER´S NAME IS GONZALO VASQUEZ, NICKNAMED "ALEGRIA". THIS YOUNG SURFER WAS THE MOST DEDICATED OF ALL YOUNG LOCAL SURFERS IN ISABELA ISLAND. HE WAS THE FIRST TO BE IN WATER AND LAST GET OUT. BROTHER OF 4 FROM A POOR FAMILY. THE ATTACK WAS DONE WHEN HE WAS PADDLING FOR NEXT WAVE. HE WAS BRAVE ENOUGH TO PULL OPEN THE SHARKS JAWS FROM HIS LEG TO LET GO OF HIS RIGHT FOOT. HE WAS THEN HELPED BY OTHER SURFERS MOSTLY YOUNG LOCAL KIDS. WITH HIM WERE ABOUT 12 SURFERS AND ONE NON LOCAL FOREIGN SURFER. HE ALMOST LOST TWO FINGERS OF ONE HAND (RIGHT) WHEN FIGHTING FOR HIS FOOT WHICH PROBABLY COULD LOOSE (AMPUTATED) OR BE DISABLE. NOBODY KNOWS EXACTLY WHAT KIND OF SHARK WAS SO FAR. I JUST GOT A CHANCE TO INTERVIEW (AGAIN LONGER) GONZALO TODAY EARLIER AND MORE GOT DETAILED INFO OF HIS FAMILY (STEPMOM) AND PHOTOS OF HIM AT HOSPITAL WILL COME FOR YOU TO BE ABLE TO HELP HIM AND HIS FAMILY. PLEASE COME BACK SOON IF INTERESTED IN KNOWING MORE TO HELP.

HE IS NOW IN CLINICA GUAYAQUIL AT MAINLAND IN INTENSIVE CARE. BILLS ARE PILING UP ( SO FAR $ 8000 USD) AND GONZALO´S FAMILY IS VERY POOR. WE ASK ALL THE SURFING COMMUNITY TO CONTRIBUTE IF POSSIBLE WITH HIM AND HIS FAMILY. GONZALO IS ONE OF KIDS RAISED BY A STEP MOM (HIS AUNT) AS REAL MOM HAS MENTAL ILLNESS. AUNT (STEP MOTHER) MAINTAINS BY HERSELF ALL HER OWNS (3) AND GONZALOS KIDS (BROTHERS & SISTERS 4) SEVEN (7-RAGING FROM 17-10) TOTAL!!. AND HER OWN MOTHER (GONZALOS GRANDMOM!!). SHE, MARGARITA, OWNS ONLY A BAR IN TOWN WHERE VERY FEW TOURIST GO.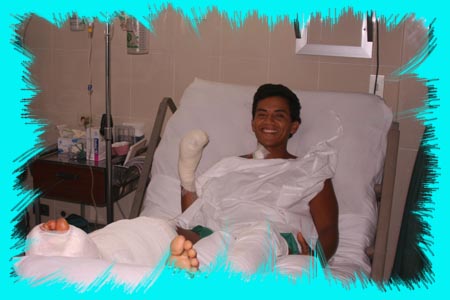 IN GUAYAQUIL A GROUP OF PEOPLE ARE GATHERING FUNDS TO HELP GONZALO´S FAMILY TO COVER BILLS. WE ARE ALSO GOT A NEW BOARD TO MAKE A LOTTERY AND RAISE MORE FUNDS THAT WAY.
IF YOU CAN HELP US GET MORE PEOPLE INTERESTED IN HELPING GONZALO AND FAMILY, PLEASE LET US KNOW. WE WILL PUT YOU DIRECTLY IN CONTACT WITH GONZALO´S FAMILY AND WITH HIM. HIS MOM/FAMILY CEL PHONE IS 59397783297 (I THINK THATS THE OVERSEAS NUMBER. IF YOU ARE HERE IN ECUADOR DIAL 097783297. OR CALL ME 097835794 I GET YOU IN DIRECT CONTACT WITH THEM.
HE HAS A GOOD CHANCE TO LOOSE HIS RIGHT FOOT AND ALREADY LOST 2 RIGHT HAND FINGERS. NEEDS LOTS OF SURGICAL COMPLEMENT OPERATIONS. AND THEY BARELY CAN PAY STAY IN CITY.
GONZALO NEEDS THE HELPING HAND OF ALL SURFERS.
MORE DETAILED NEWS SOON. HOSPITAL NUMBER I HAVE NOW IS 5934563555 CLINICA GUAYAQUIL AND SAY YOU ARE CALLING FOR GONZALO OVERSEAS. GET GENERAL INFORMATION THERE. BUT I GUESS ONLY SPANISH SPEAKING HOSPITAL WORKERS.
OTHER ATTACKS HAVE BEEN OCCURING AT GALAPAGOS AT ISLA SAN CRISTOBAL BUT LUCKILY NOT THAT BAD. SEEMS LIKE SUPPOSEDLY "BULL SHARKS" ARE GETTING MORE AGGRESIVE AS MANY PEOPLE SAY THATS THE SPECIE TO POINT FOR NOW. NOT SURE THOUGH AND NOBODY KNOWS WHY THIS CHANGE IN BEHAVIOUR.
Dec-08- FIRST SHARK ATTACK TO SURFER IN GALAPAGOS HISTORY. THE BEGGINING OF DIFFERENT TIMES..
FIRST SHARK ATTACK ON GALAPAGOS WATERS TO A SURFER. SURFER WAS FROM NZ. HE LOOKS COOL IN YOU TUBE VIDEO BUT SCAR LOOKS QUITE BIG AND FROM A BIG SMILE SHARKY DUDE. LUCKILY THIS GUY WAS NOT AMPUTATED AND RESUME LIFE AS USUAL. AS YOU CAN SEE IN YOUTUBE VIDEO ATTENTION/CARE IN HOSPITAL IS VERY LIMITED. EVERYBODY TALKS ABOUT BULL SHARKS BUT I THINK IN REALITY NOBODY KNOWS REALLY WHAT SHARK SPECIE WAS FOR SURE. ATTACK HAPPENED AROUND 5 PM. AND MORE DETAILS ARE NOT REALLY KNOWN. IF YOU WANT TO SEE YOUTUBE VIDEO OF THIS ATTACK TYPE SHARK ATTACK IN GALAPAGOS.
AGT-18-08 BAD NEWS IN GALAPAGOS:
A VOLUNTEER WORKING FOR THE GALAPAGOS NATIONAL PARK (GNP) DIED LOST IN ISABELA ISLAND. FEW YEARS AGO THIS HAPPENED IN SANTA CRUZ ISLAND WITH ANOTHER YOUNG PERSON WHO GOT LOST. THE PRESENT VOLUNTEER WAS ONLY IN HIS TWENTIES. HE WAS HELPING THE GNP ON SURVEYING IGUANAS. SEEMS LIKE HE GOT LOST AND AFTER FEW DAYS OF SEARCHING BY MANY PEOPLE LOOKING FOR HIM HE WAS FOUND DEAD IN A CREVICE. WE PRAY FOR HIS SOUL.
I LIKE TO MAKE A COMMENT HERE THAT AS IN MY PAGE TRAVEL TIPS GETTING LOST IN GALAPAGOS IS VERY EASY AND IT DOES NOT SEEMS LIKE IT (THATS WHY IS MORE DANGEROUS). GALAPAGOS HAS FEW DRINKING WATER SPOTS. IF YOU GO IN A HIKE TAKE WATER WITH YOU ALWAYS AND CONSERVE IT AS MUCH AS POSSIBLE. ALSO KEEP TOGETHER WITH YOUR GROUP. DONT VENTURE ALONE ESPECIALLY ON DRY COASTAL AREAS. MANY CREVICES OR LAVA CRACKS ARE VERY HARD TO NOTICE AND YOU CAN FALL IN ONE AND MAYBE INPOSSIBLE TO GET OUT OR YELL AND BE HEARD.
BE CAREFUL EXPLORING, BE PREPARED.


JUL-15-08, GOOD NEWS FOR SAN MATEO!

FINALLY AFTER STRUGGLING AND WORKING WITH PEOPLE IN MANTA AND FEW GUYS IN GUAYAQUIL SAN MATEO SEEMS LIKE ITS BEEN SAVED FROM FISHING PIER CONSTRUCTION. THE GOVERNMENT OFFICIALS HAVE LISTENED TO OUR MANY REQUESTS TO PRESERVE THE WAVE. IT WILL BE OFFICIALLY CONFIRMATED ONCE CONSTRUCTION BEGINS BUT WE SEEM TO HAVE CERTAIN PEOPLE IN GOVERNMENT (WHO USED TO SURF) ON OUR SIDE. THANK GOD!
JAN 20 2008, BAD NEWS!

SAN MATEO WAVE ON MANABI PROVINCE IS THREATENED BY MONSTROUS FISHING PIER PROJECT TO BE CONSTRUCTED RIGHT ON POINT WAVE.
SOON WE WILL HAVE MORE ON THIS. IF YOU CAN HELP US WRITE US WE WILL GIVE YOU MORE TECHINCAL INFORMATION ON THIS ASIT COMES AVAILABLE.
click on link below for more info
http://rpmsurfer.com/galapagosurf.html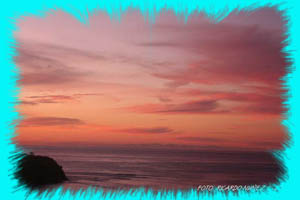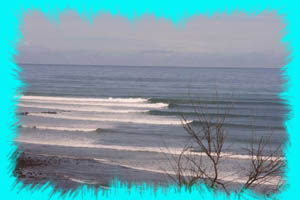 FEB 10 2008, FINALLY!
SAN CRISTOBAL AIRPORT IS NOW IN SERVICE AND AIRLINES: AEROGAL AND TAME, ARE LANDING NORMALLY. YOU CAN BOOK YOUR FLIGHTS AND BUY TICKETS WITHOUT PROBLEMS TO LAND DIRECTLY INTO SAN CRISTOBAL ISLAND.


This site is the best for environmental issues concerning the Marine Reserve of the Galapagos
which right now is the most threatened by commercial fishing industries and other obnoxious perspectives.
surftrip.net ecosurf news
News from all over the surf planet. From Galapagos "Jessica" Oil spill, to Wrecks over the Indian Ocean.


This is the best source for fresh information on local News from Galapagos and Natural History information updates. Also, there is great bulletin board where you can get free info from different galapagos residents/naturalists/guides. Also some surf info from yours truly.
SUPPOSED TO BE SCIENTIST ARE EXPELED FROM GALAPAGOS, FOR CAUSING ALARMING DAMAGE ON ESPAÑOLA'S ECOSISTEM. (Articles are in Spanish) AUGUST-05