"Playas"
(General Villamil)
The "Surf" town by the Gulf of Guayaquil
By Ricardo Nuņez Cristiansen Copyright 2001
Updated Agt - 2007
Intro
Papayas as big and as sweet as you can imagine, Pineapples from some other planet, limes as big as a tennis ball and so juicy you can make lemonade for 4 people with 4 of them. Big, tasty avocados and export mangos almost for free!, guayabas, and giant guanabanas can be bought for pennies.
All this, on the road to "Playas" (official name: General Villamil), a small coast town on the shores of the Gulf of Guayaquil. About an hour by car, or about -two, by bus from Guayaquil. The road (90Km.) is very good now (4 lane now-2007). Half of this road is the same one that goes to Salinas and the beaches north, Montañita, Machalilla, etc. At "Progreso" small town where the road splits, you take a left exit, which will head you to this quiet and easygoing town with a lovely climate year round, (best time weather May-June also best time for waves & conditions) in fact, Playas climate was named many years ago by UNICEF as "one of the best in the world", well inside the Gulf so as to be protected from the tenperate Humbolt and Peruvian currents that cool the southern and central Ecuadorian coast during the months of July to November.
"Playas" has a great sunny cool weather pretty much year round. Very hot and sunny on January thru' May, Cooler and partially cloudy most days from June thru' December. Best months for weather December early January. Also, and best waves & conditions May-June. Best of best time to come for surfing April-mid June.
The Feeling
This town has a country feeling everywhere. This is an unpretentious beach town. If you want to have a real feeling of Ecuador's way of life, this is it. No big tourist complex, no massive condos like Salinas or Manta and Bahia de Caraquez which all lost their charm under all this century developements. PLayas has only 2-3 condos rest are small houses the majority being working class owners. A real beach way of life at a real beach town. The food is wonderful and cheap. The mood is casual and relaxed. This is a town to let go and slow down in. Everybody who lives here, lives at a slower pace. In fact, it may be hard for some of us city people to adjust. It takes a few days. People walk or bike in the middle of the streets oblivious to cars, trucks or buses. Of course they know you will have to stop for them. This is their town and their way of life. It feels great. So close to a hyperactive city (Guayaquil), but here there is a total contrast just in an hour's drive. No wonders several families from different parts of the world and Ecuador too, have settle down here and live a healthy and easy life.
The vibrations of Playas are "country by the ocean". Or maybe I should say "country by the Gulf". Miles of wide sandy beaches (about 10 miles nonstop), with balsa sail rafts that still fish as in the time of our grandfathers and the Punaes and Huancavilca indians thousand of years ago. Bamboo oar and cloth sail driven balsa wood rafts go paddling or sailing along the shores for hours looking for oysters and "corvina" fish, a deliciously tender and tasty medium size bass, that can be served up anytime fresh from the ocean which you can find all over the beach restaurants.
This is real fishing town and these are the only type of boats you will see here, no yachts, no big fancy sport fishers, etc. just as it has been for decades. Here you will find all the seafood you could want, probably only comparable to the big seafood markets in the Far East. All kinds of shrimp, squid, crabs, giant ocean oysters, mussels, lobsters, conch, clams, mangrove oysters, 20-30 pound snooks, and red snappers to name just few daycatches and the famous "corvina", served with rice and a small onion salad on top for a dollar. Oyster, fish, cockle and conch ceviche $2,oo US each. Shrimp ceviche $3,oo US. Or "Mixto Ceviche" (all kind of seafood mixed in one) for $ 4.ooUS! This is still the cheap Ecuador we knew sometime ago, where you can still eat a decent meal for as low as $ 4,oo US. A GREAT PLACE TO EAT TASTY ECUADORIAN FOOD IS COMEDOR (GRILL) "ESTELITA" on corner right on beach street close to main big park (the one with skateboard park now) Try here the grilled marlin fish at night or the chicken is fantastic also the shrimp al ajillo (garlic) is just unbelievably good and cheap $6. On the main beach of town you will see the local restaurants. These are small eating places where you will get typical foods from $0.80 cts to $3, if desiring to be fancy; 8 dollars for lobsters or jumbo shrimp! One plate worth trying is the "Shrimp and rice", also the "Cazuela" (local seafood casserole) and the "Pata de Mula" (black mangrove cockle) ceviche, also the "Encebollado "PICANTERIA "EL TIBURON" (tuna, manioc with tomato and onion broth served hot). CAREFUL WHERE YOU EAT AS CERTAIN PLACES ARE NOT THAT CLEAN.
The Road
To get to Playas all you have to do is take the "To The Coast" (A la Costa) road from Guayaquil and make a left at "Progreso" (Km. 70 approximately) a small road town where the name means "progress" but decades have passed and the town has not changed one bit!. Finally all this road to beaches from Guayaquil is a new 4 lane road finally finished! until right to arrival to "Progreso" town where you should take a left EXIT (To "Playas" or "G. Villamil"). After passing "Progreso" small village the road changes to a SINGLE 2 LANE ROAD AND NARROWS DOWN, ALSO GETS BUMPY AS THIS LAST 25 KM TO PLAYAS ARE USUALLY NOT WELL MAINTAINED. Coming from Guayaquil you will see stopping places where you can eat ostrich hamburgers for a $1,oo at "Agro Comercial Rio Daular" at Km. 36. You can also stop by the "Finca Teresita" at Km. 57, where you can see wild coastal animals like pumas, boas, caimans, monkeys, live ostriches, and get fresh homemade cheese and yogurt. And if you are really into eating natural foods you've got to stop at "Agro oficial" at Km. 43, a place where you will find all the kinds of local fresh fruits and vegetables described above for cents. You will also find fresh produce at "Cerecita" another tiny Road Town along the way.
Worth Visiting
Once in Playas, you should go to see Shangrila Hills Villa, a beautiful area to the west minutes from downtown. This area has one of the most impressive views of the Gulf of Guayaquil with Puna Island in the background where Pizarro (a Spanish colonizer) suffered his worst defeat. An excellent place for "Birdwatching" in a dry tropical forest called "Tumbesian", close enough to town and also far enough away, a special place with cool breezes, birds and its beautiful view from the top. Balsa rafts and shrimp boats dot the gulf on lazy net drags, ships on the horizon wait for their turn to enter the Guayas River to get to the city's busy port. Frigate birds rule over this landscape. Mockingbirds (Galapagos species relative) nest right in front of you and a casual hawk or falcon glides by together with the vultures. Flycatchers, gnatcatchers, gnatwrens, owls, swallows, mangrove cuckoos, caciques, antbirds, orioles, endemic jays, warblers, parakeets, finches (also Galapagos relatives), doves, anies, etc. are to be seen here. Most of this vegetation is the origin of the Galapagos Flora.
Another place you cant miss is the town of "El Morro", just minutes from Playas on the east. Just ask around, and someone will tell you how to get there, or just head toward "Cerro del Morro" rock which gave the town its name. This town's church is a hundred years old, and in this tiny one time cattle town, you would feel in the old west. The rock itself is locally popular for day trips and climbing excursions. There is a small altar to the Virgin Mary on the east flank. This was a popular town to great grandparents from Guayaquil in their younger years, when there were no roads to the coastal towns. In those times the only access to these places was through the Guayas River by old time steamboats.
"Port of El Morro" is the next close by town (4 miles) at the end of the same road. The road ends at an "Estero" (estuary), where you can get a canoe ride on the mangrove estuary with all its natural beauty for about $10 (an hour approximately, 5-6 people). In minutes you will be out on salt water river surrounded by the mangrove forest and head for the meeting of the main Guayas river. Here you will observe the estuary local school of dolphins that are friendly and great to watch close to your boat. This is a highly recommended diversion and in this way you will be supporting the estuary way of life. The port is home to the people who hand harvest almost all the seafood you will see in markets and streets of Playas. If you come here you can buy seafood so cheap, you won't believe it and might almost feel guilty paying so little.
Some shrimp farms still operate around El Morro Port and it may be worth taking a look at one of the main export products of the country and how they produce it. Other fishing towns close by are "Data" and "Posorja". These towns are located very close to the entrance to the Guayas River or the union of river and sea. You will see quite an amount of traffic of big ships entering and leaving the river. The channel between Isla Puna and Posorja is quite narrow, so big Liners will pass by very close. This is an area where you can see part of the common fauna and flora of the Guayas mangrove estuary, the biggest in South America and one of the biggest in the planet. In fact, this gulf estuary is the origin of many of the Galapagos plants and animals, especially landbirds, reptiles, and mangrove life. The Gulf of Guayaquil it's an important source of faunal migration by way of large vegetation rafts that are formed during the El Niņo phenomena on mainland Ecuador rivers. This brings all kinds of plants and animals from floods, which in turn end up on the big Guayas river and then on the Gulf. From there on, the Oceanic Peruvian and Humbolt Currents take all these pileup rafts of biological material on a journey across the East Pacific westward to the Galapagos. Any specie that survives this trip and eventually arrives in Galapagos and finally survives the harsh island environment can settle down as native specie. Here, at the Gulf of Guayaquil and the town of Playas, you can see all these happening from its hills, ponds, mangroves estuaries, beaches and waves.
For call to get information and reservations to do birdwatching, dolphin trips on estuary to river etc call to:
ECOCLUB LOS DELFINES 2-529496 EMAIL: puertoelmorro@yahoo.com
The Weather
Playas and its surroundings have warm tropical weather year round in contrast with the rest of the Ecuadorian coast. This is so because of its location inside the Gulf, which is protected from the cooling effects of the Humbolt and Peruvian currents. Waters (21-28C.) and air (20-35C.) are always agreeable and mild. The Hottest months with scattered showers are February to April with slight variations depending on intensity of seasons or "El Niņo" years. The cooler and driest months are July to November; and, the months of May-June and December-January offer the most enjoyable almost perfect weather. Here, as in all of Ecuador, there is only a small temperature change between seasons and especially so at Playas. This town is the "Sun Town" of Ecuador, where you can count on many sunny days through the year.
Worth Doing
Surfing is great in Playas; with a point break about 2 miles long. In "surfers talk" this is super long and waves are best in the cool season (March-Nov) with an average size of 5 feet. This is the home of the balsa surfboard and you can get one here cheaper than any other place on earth. Made by a Master craftsman. Also, mountain biking around the town and the surrounding roads to the "Savannah Grande" area. This was an area of many of the biggest and most productive shrimp farms in Ecuador (before "Mancha Blanca"-shrimp disease). These dirt roads are a good way to get to know the small town people and their way of living, plus the fauna (Birdwatching especially). Beach horseback riding is another activity popular and great to do to feel this wonderful place. Birdwatching as described above, is great (best time February-June for landbirds and greater variety in general). Either watching land birds with endemic species as watching waders and mangrove estuary birds. Estuary fishing and gulf coastal fishing is great of course. This can be arranged with any fishing skiff be the hour or day. Snook and corvina are plentiful and you don't need a license.
Summing it up
To sum up, Playas is "the" town by the beach in Ecuador that you should not miss if you want to enjoy a great relaxed time with different economical places to stay and still get great accommodations and service. Beach walks, sunset dwellings, food tasting, "land-sea-estuary" Birdwatching, surfing, cycling and great weather make Playas a "must see" destination on mainland Ecuador.
FACTS ABOUT PLAYAS
· Approximate Population: 50,000.
· General Weather : Only 2 seasons like all Ecuadorian Coast and Galapagos weather. Hot Season (very hot maybe rainy) January-April. Temps: Highs; medium to high 30īs C. Lows; high-medium 20īs C. Cool Season (not so cold as rest of coast): June-December. Temps: Highs; high 20īs C. Lows; lower 20īs upper teens. No large storms ever and no winds higher than 15-20 knots.
· Best Weather: December-January, May-June. But there is no bad weather ever here as in all Ecuador and especially at this area. This months are just "perfect" weather months in comparison to the rest of the year. Pick "cool season" months if you are not fond of hot weather. Or pick "hot season" months if you enjoy hot & sunny days.
· Best for Birdwatching: April-June for "landbirds" (Shangrila Hills Villa). Year round for waders (beach birds) and estuary birds, i.e. ibis, storks, herons, sandpipers take El Morro to Data road and try eggting to offroad areas like shrimp farms areas, just ask permission sometimes they dont mind.
· Suggested Food and Lodging: Lodge: Hosteria Bellavista (on the road to Data-Posorja) Hotel Delfin, Hotel Tucan, Hostal Las Redes, Hostal Los Arcos (Economical). Food: Restaurante "Los Ajos", Restaurante "Jalisco", "Cabaņa Tipica", Picanteria "El Tiburon", and all the eating places by the beach and bamboo Ceviche spots. Las "Empanadas Chilenas" ( Right besides the main Park- by beach small place by tree) dont miss this little but great spot for after surf dinner!.
· Best activities: bird watching, surfing, biking, kayaking, horseback riding, people watching, fishing: surfcasting, trolling and bait casting for snook and corvina, beach horse riding, relaxing, knowing interesting locals, salsa dancing, beach exploring and more.
· How to get there: By bus: Take bus from Bus Station close by Guayaquil airport; just ask for buses to "Playas". Cooperativa Villamil and/or Cooperativa Posorja are your choices. By car: Ask around to road to Playas or to "la costa". Make a left at "Progreso" road town junction.
· Credit Debits cards use and cash: Us Dollars, Cirrus, MasterCard, Visa in ATMs.
· Food Tips: Try to avoid eating at small places when there is a lot of people. If you have a sensible stomach go for the bigger restaurants as they usually have less oily plates. One highly recommended restaurant is "Los Ajos" (on same street as Cooperativa Villamil bus station about 5 blocks west).
· Water Tips: As in all Ecuador, go for the bottle water that is good and cheap.
. SURFBOARDS (USED/rent) AND BALSA: To get a used board last minute call Juan at Restaurant "JALISCO" cel: 086027735 ( locofuanand for any surfing drections even free guiding certain lucky days. For getting a Balsa board made or maybe buy right away if in stock call "AFRO" Lucho at Cel 092911663 or write to afrobalsa@yahoo.com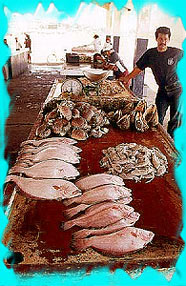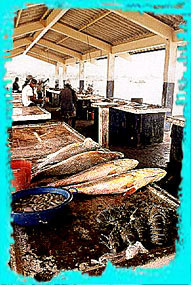 Playas seafood market by the beach. The best prices and the best fresh "catch of the day"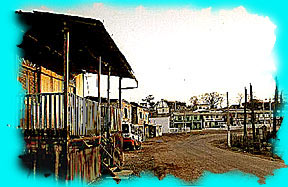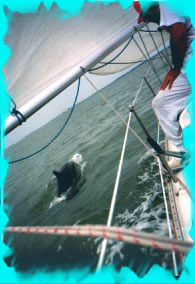 "El Morro Port" village, just 10 minutes from Playas, a very old town
resembling the old west. Right by the Morro estuary and where you can get
on a fishing expedition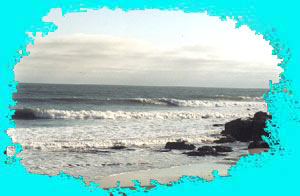 Typical cool season swell and conditions.
August 2001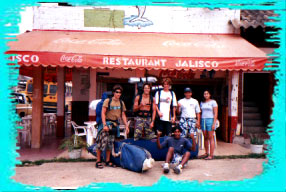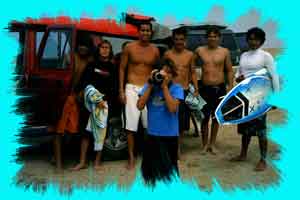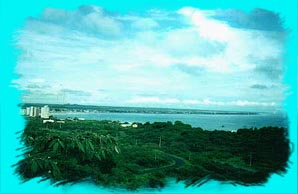 Playas view from ShangriLa Hills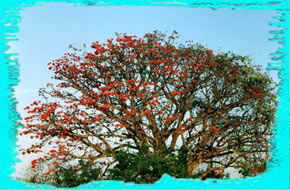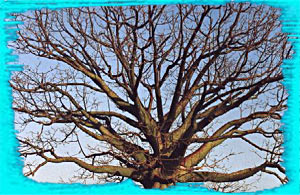 Ceibo tree by Guayaquil-Playas road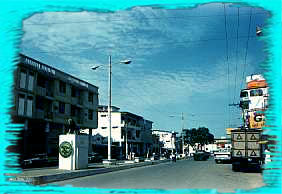 Playas mainstreet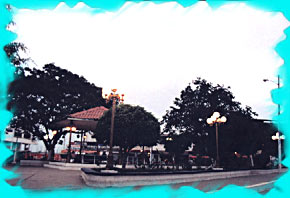 Playas "central Park"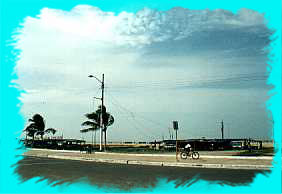 Playas PCHwy, and beach restaurants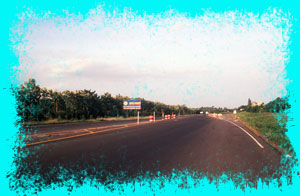 Road from Guayaquil to beaches (Playas, Salinas, Motanita, etc) now finally are almost completly finished to 4 LANE MAIN ROAD. CAREFUL AT NIGHT CLOSE TO PROGRESO AND GOING TO SALINAS.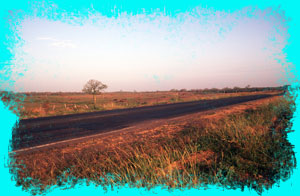 Middle of road between Progreso and "Playas"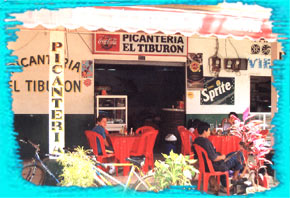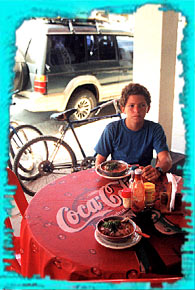 Encebollado dish & hotsauce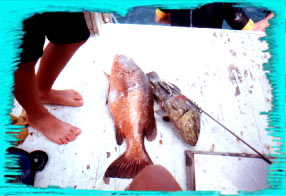 Daycatch on Isla Sta Clara. Fishing here is more pristine than Galapagos.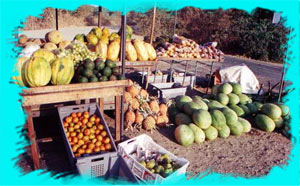 "Cerecita" road town fruits & vegetables.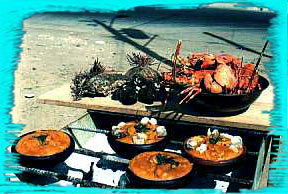 "Cazuela", Lobster, Pangora Crab, Red Crab, Oysters and "Pata de Mula" conch. Insane killer after- surf natural seafoods. After a meal of this, your girlfriend will not sleep for hours....
Best "encebollado" in town.
About 20 miles on the road from Guayaquil to Playas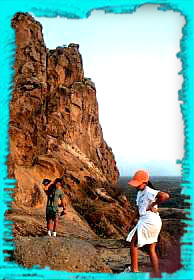 El Morro Rock, 5 minutes from downtown Playas on the way to El Morro town and Port. Amazing sunsets can be watch from here. Also great camping.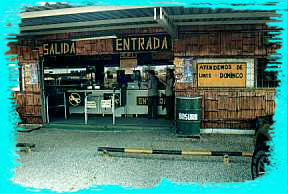 "Agro Oficial" store, the place for getting your fruits, vegetables, yogurt at incredible prices! (KM 43 aprox)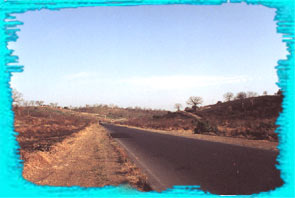 About 10 miles from Playas. Vegetation turning more "Tumbesian".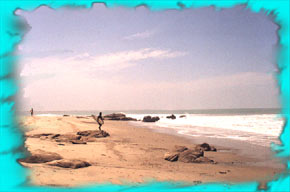 The walk to the 2 mile point, just pick your lineup

Typical cool season swell and conditions.
August 2001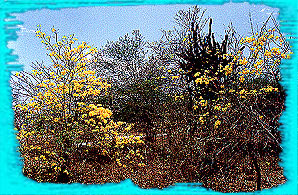 September flowering. Native Flora of area.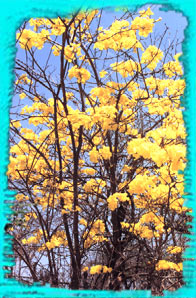 "Jigua tree" flowering. This is one of the hardest woods in Ecuador.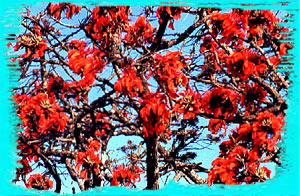 Playas Surf Club headquarters. "Jalisco" restaurant.

Dolphin watching at Posorja estuary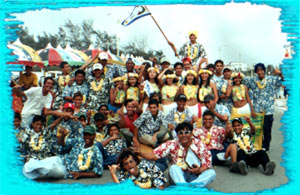 Playas Surf Club team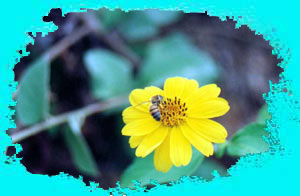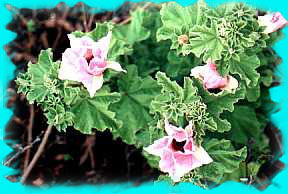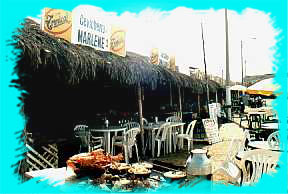 Seafood paradise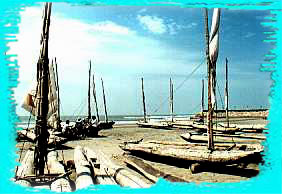 Balsa rafts waiting still for its fishermen
Ecuador's heritage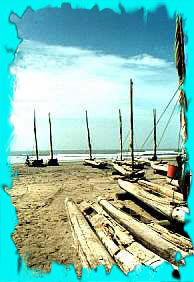 Balsa rafts as they were made hundred years ago. And they still are and wait for another go out fishing.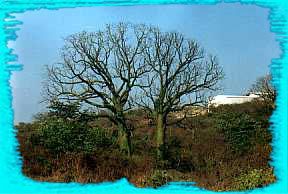 Twin Ceibos, by Progreso-Playas road.